It's important to use a cutting mat when using a rotary cutter
In order to use the rotary cutters to cut fabric, you must use a cutting mat. A cutting mat will prevent your rotary cutter from slicing up your cutting board or table.
These "self-healing", professional quality translucent cutting mats are especially designed for use with OLFA® standard-duty cutters, heavy-duty cutters, art knives, rotary cutters and specialty cutters.
The 12" x 18" translucent cutting mat (double-sided use) has light boxes and white grid lines on one side for precision cutting. The opposite side is for general cutting. The board is useful in surface and blade protection with OLFA® cutters. OLFA® cutting mats must be stored flat.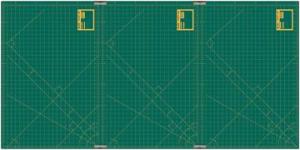 (For more information on purchasing the cutting mat, click on the image to the left.)
To learn about rotary cutting tools, visit the pages, Rotary Cutter 45 mm Blade and Rotary Cutter 60mm Blade.