Shears and Scissors
You are going to need two different kinds of scissors. To accurately cut your pattern out, you need a good quality pair of shears. Better quality shears will stay sharper longer and your hands won't get tired easily.
These shears are high quality Gingher 8 inch serrated blade plus knife edge blade. These shears have one edge ground with a micro-erration for assisting in gripping filmy fabrics such as silk and rayon. The knife edge offers smooth and easy cutting through thick layers of fabric and can be sharpened using the sharpening stone. Handles on this model are bent at the correct angle for easy cutting on a tabletop or other flat surface.
(To order these high-quality shears, click on the image and it will bring you directly to the sales page for ordering)
For those of you who are lft-handed, I strongly recommend you purchase good quaility left-handed shears. When you shop for them, make sure they are "true" left handed. This is how you tell which is which: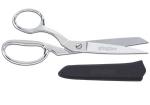 When you hold the shears in your left hand, and you open them, the top blade should be on the left. If you look at other "regular" scissors, you will see the top blade is on the right. Using true left-handed scissors, your hand and fingers will not hurt as much when your cutting your pattern out.

(To order these high-quality true left hand scissors, click on the image and it will bring you directly to the sales page for ordering)

The scissors in this picture are high-quality Gingher 8 inch true left hand, knife edge dressmaker shears. True left hand shears provide true comfort and accurate cutting for left handers. These knife edge dressmaker's shears are capable of cutting through many thick layers of fabric and the knife edge can be sharpened with the G-S sharpening stone. Bent handles are angled for smooth and easy cutting on tabletop or counter. This is an indispensable tool for sewing, quilting and craftwork.
The other pair of scissors can be any one of your choice. You use this pair to cut your pattern pieces in preparation to lay on fabric. You also use these while you're sewing to cut your thread, and any other necessary functions.
Do not use your professional shears on anything but cutting the fabric. This will damage the scissors and dull them quickly.