Using the Gingher G-5 5 inch Scissors can save you time in your sewing projects
The Gingher G-5 5: knife edge sewing scissors can cut through multiple layers of fabric because the have been ground with a knife edge.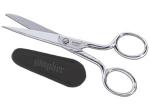 By layering your fabric and only having to cut the pattern or whatevery you're doing saves you time. The longer blade on these scissors are more suitable for trimming layers of fabric.
The scissors are made of chrome over nickel plated and packaged in a hang bag with a fitted leather sheath.
To order the Ginger knife edge scissors, visit:
Gingher G-5 5 inch Knife Edge Sewing Craft Scissors